Once again, a list of apps in Google Play Store with unwanted functionality was published. This list holds apps forcibly displaying ads on the user's lock screen, triggering video and audio advertisements even while the phone was asleep, and displaying out-of-app ads that interfere with a user's interaction with other applications on their device. This unwanted functionality did not immediately appear after app installation, but became visible at least 24 hours after the application was launched. Some apps wait patiently 2 weeks after installation to impede the occurring disturbances to be brought into connection with the liable app.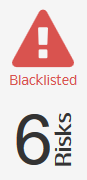 We have checked the published list and found 7 unique apps on it that have been analyzed in the last months by Appicaptor. All of them were blacklisted by Appicaptor's standard policy intended for medium security requirements. The rating is based on generic rules regarding a correlation between the app model, extracted by machine learning from the app's description text, and static analyzed properties of app content.
Although the unwanted functionality has not being directly identified by Appicaptor, we are pleased to see that Appicaptor's standard policy had identified these apps as not compliant with business requirements. This shows the informative value of the standard Appicaptor policy set that is continuously revised and updated over the last years.